After months of build up and more than a little bad blood Wilder V Fury finally happened but was a draw the right result.
On Saturday night Wilder and Fury finally stopped talking and started fighting, this much anticipated fight definitely lived up to the hype. It was billed as the boxer against the puncher and that's exactly what we saw as from the opening bell Fury was working well off the jab and he was moving well round the ring. For at least the first two rounds Wilder couldn't land a meaningful shot on Fury. As the fight went on Wilder did have some success but throughout the fight the better quality work came from Fury as he was boxing his way in of course it wouldn't be a Tyson Fury fight without some showboating and we saw plenty of that. In contrast Deontay Wilder was just looking for that one big knockout shot and when he couldn't land it he didn't seem to have a plan B.
Things seemed to be turning around in the 8th round when Wilder sent Fury to the canvas, but he got back up and came back well the next round. Then in the final round the fight looked over as Fury went down hard and he was flat on his back, but he got up like a man possessed to beat the count and make it to the bell.
So to the judges we went and this is where the controversy started as they scored the fight 115-111 (Wilder), 112-114 (Fury) and 113-113. Two of the three cards I can understand but were did Alejandro Rochin get his score of 115-111 from was he watching the same fight as the rest of us because he's card was a disgrace. Even Phil Edwards score of 113-113 was harsh but I can see how he got there, here's how I scored the fight: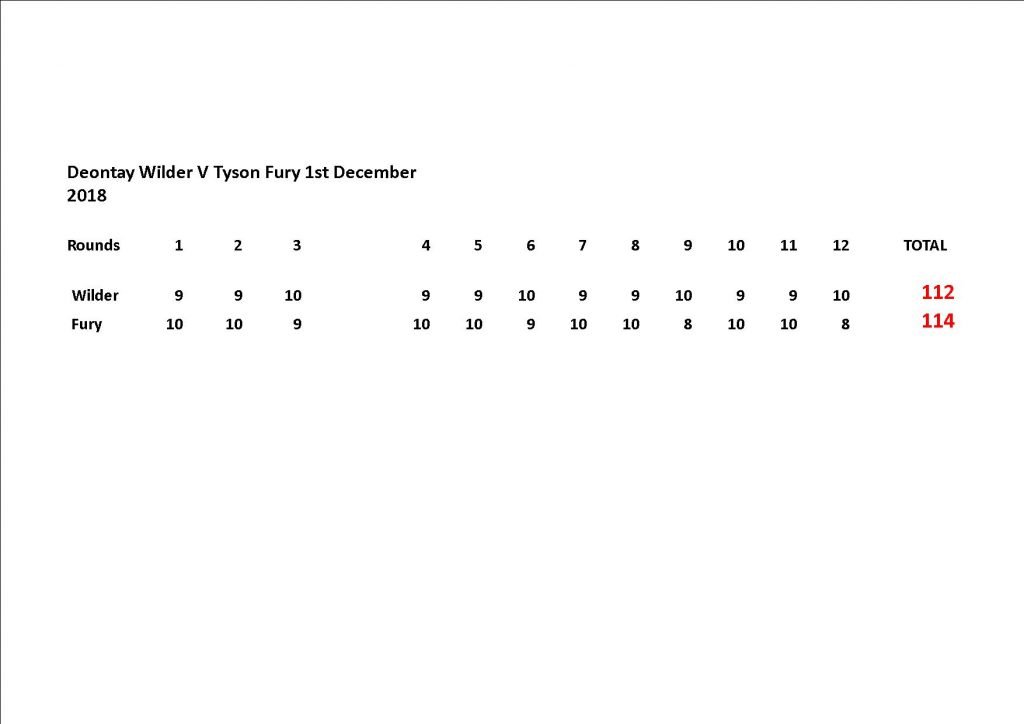 As you can see I clearly had Fury winning the fight and to be honest I could have scored it wider to Tyson Fury, I know in the past I've made no secret of the fact I don't like Fury but on Saturday he out boxed and out fought Wilder.
I started this post by asking was a draw the right result and I think we can clearly see it wasn't, but I have a bigger question for you were does the Heavyweight devision go from here? In the ring after the fight Deontay Wilder said he would be happy to give Tyson Fury a rematch but then in his press conference he said he wants to fight Joshua for the undisputed title. I know that's the fight that a lot of fight fans want to see but if he fights like he did on Saturday against Joshua he's going to lose.
Here's what I think should happen Wilder should be ordered to give Fury a rematch because a draw doesn't do ether man any good where as a rematch would answer any questions leftover from Saturday night. Then in April Anthony Joshua should fight Dillian Whyte in a Battle of Britain providing that he comes through his rematch with Dereck Chisora on the 22nd December.
Please comment below and let me know your thoughts was a draw the right result and what should happen next?
Share This: