The former British champion Frank Buglioni shocked the world of boxing by retiring at just 29.
The Wise Guy called time on his career on Monday after losing on Saturday night in Monto Carlo. On Saturday he stepped into the ring looking to get back in the world title picture, when he took on the undefeated Fanlong Meng for the IBF Intercontinental title. He started the fight slowly it looked like he was going to be a victim of the southpaw jinx, then things went from bad to worse when he suffered a bad cut on his left eye. In the rounds following the cut you could see him trying to go through the gears to try and get the stoppage, but it was in vane as the blood continued to flow forcing the referee to call the doctor in the first time the doctor allowed the fight to continue but minutes later the doctor was called in again and this time the doctor advised the referee to stop the fight.
In his post fight interview he was obviously gutted but he said that he would go and see a plastic surgeon, and then he would be back in 2019.
Many people at ringside on Saturday believed that Frank Buglioni would comeback. However they thought he would have to go back down to domestic level but he might be able to work his way back into a British or Commonwealth title shot. However they thought it would be unlikely that he would get a shot at a world title.
Saturday's loss was his second in 2018 after he lost his British title when he was knocked out in the opening round back in March when he took on Callum Johnson.
Despite the fact that 2018 hasn't been the best year for him Frank Buglioni took to social media to release this statement: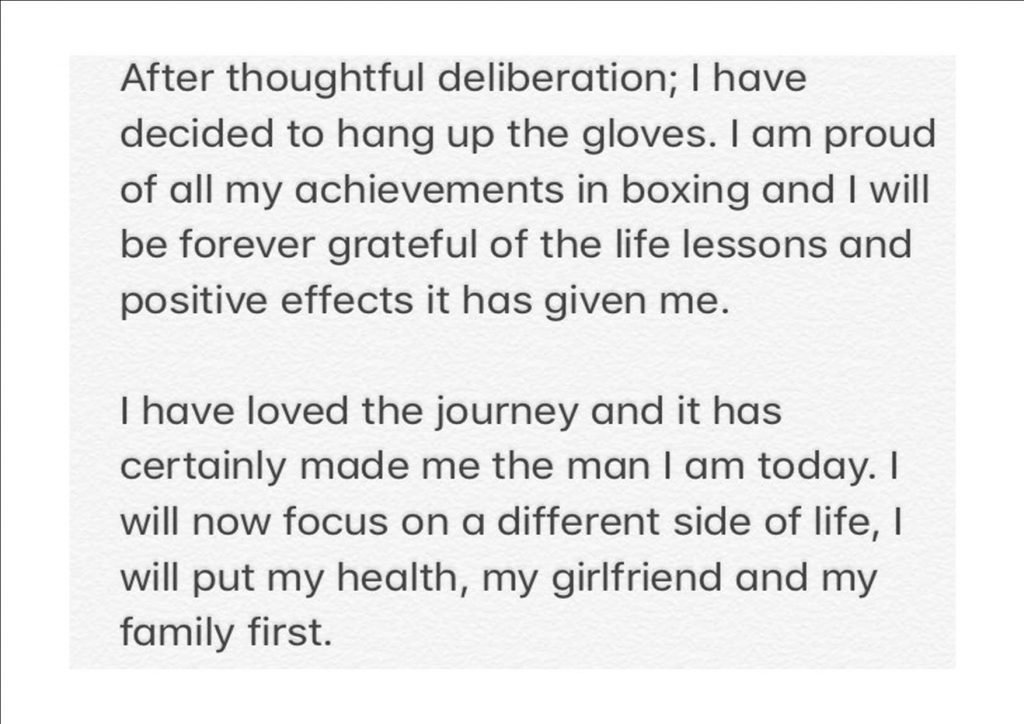 This statement did come as a shock but only he knows how he's feeling and whether or not he wants to continue. I just hope that he hasn't rushed into his decision because 29 is relatively young to hang up the gloves, I hope he doesn't regret it when the dust has settled and then try and comeback.
So what will Frank Buglioni be remembered for he won the British title in December 2016 when he knocked out Hosea Burton in the final round. He went on to make two successful defences against two undefeated fighters in Ricky Summers and Craig Richards. In 2015 he got his big chance to fight for the WBA title when he took on Fedor Chudinov unfortunately he was out boxed and out classed losing a wide unanimous decision 118-108,120-109 and 117-109 on the judges cards. Although he never won a world title he will be remembered as a man who would fight all comers and he was never in a boring fight.
He finished his career with a record of 22-4-1 with 16 knockouts, I wish him all the best in whatever he decides to do next and thank you for all the great fights.
Please comment below and let me know your thoughts was now the right time for Frank Buglioni to call it a day?
Share This: